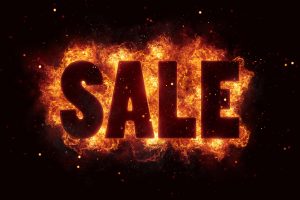 You shouldn't have. You know you shouldn't have. But you did. You sold a sponsorship at way below market value because time was getting short and so was your budget.
Most sponsors won't take up a fire-sale sponsorship. They know that their results come not from the sponsorship itself, but from the leverage they do around it. That takes time, so they don't invest when they don't have enough time – no matter how cheap.
The sponsors who do take up fire-sale sponsors tend not to be very sophisticated and they expect the property to deliver their results, and can be some of the worst sponzillas around.
That's not the worst outcome of a fire-sale sponsorship, though. The worst part of it comes at renewal time, when the sponsor expects you to honour the fire-sale pricing, when to you, that was just a short-term, stop-gap strategy. So, what do you do? How do you get them to a fair price?
The short answer is that, if you sell the sponsorship, cross your fingers, and hope for the best at renewal, it's a dead cert you won't get them to a fair price. Ever.  There are a few strategies you can use that will make a market value renewal more likely, but you need to put those strategies into place before you do the deal.
Manage expectations
In all, and I mean ALL, of you communications around the sale, refer to it as a "one-time offer". You could also add that the one-time offer is due to unforeseen circumstances, or because of the late withdrawal of a sponsor.
Do also say that the price is dropped because you understand that the short lead-time will mean somewhat diminished results, as they won't be able to maximise their leverage of the investment. Follow that with saying that you'll assist them in developing some easy, fast leverage ideas for this year, and that once the event/season/whatever is over, you'll work with them to develop a broader range of leverage ideas as part of the renewal process.
In other words, be very, very clear that the discount is only offered because of the short lead-time, and that it doesn't reflect the fair market value of what you're offering or where the renewal will be.
Keep the contract short
If you've got an opportunistic sponsor on the line and you just need the money, do the deal, but keep the contract as short as possible. If the sponsorship is of an event, make the contract end a month after the event – not a year from signing, which will put you in the same position again next year. Give yourself the time to try to negotiate a fair price from the sponsor, or to sell it to someone else without the time pressures.
Unless…
If you find a sponsor that is a great match and seems to have some vision around what you're doing, offer a multi-year sponsorship, with the first year heavily discounted. It could be, for instance, $15k-$50k-$50k over three years. Doing that mutually acknowledges that their returns in year one will be limited, but that they see the value in it in the long term.
Encourage research
Whether you've got someone opportunistic, with low-ish potential for a fair renewal, or someone interested in a multi-year deal, do encourage them to do some research in the first year – or you can include them in yours. I'd suggest asking two of the exact same questions from their ongoing brand tracking (they should pick two that most closely reflect what they're trying to achieve). Provide them with the results of that – which will be comparable to their ambient numbers – helping them to see that they achieved some success, even with the limited window for leverage.
You should also provide the results of your own questions, including:
What were the three best things about your event/charity/museum/etc experience?
What were the three worst things about your experience?
What were the three main reasons you chose to attend/join/donate/etc?
Those three questions give you a lot of insight, but will also provide that sponsor with the building blocks for bigger, better leverage in year two.
Start the renewal process early
If you've done a one-off, fire-sale deal, start the renewal process as soon as the event or whatever is over. Don't wait until the end of the contract, even if the contract is short and ends just a month later. You want to gauge their interest in a market value sponsorship, and if it's lukewarm, you can then start looking for a new sponsor straightaway.
Provide leverage ideas at renewal
I've gone on and on (and on and on and on) about how important it is to include creative ideas for leverage in all sponsorship proposals. The same is true for renewals – and it's absolutely critical for renewals where the sponsor may have been opportunistic, but lack any kind of real vision for what sponsoring your organisation might mean in the longer term.
If you need a strong process for developing those ideas, you should get a copy of The Sponsorship Seeker's Toolkit 4th Edition, which will take you and your team through it step-by-step.
Show some spine
If you start the leverage process early and you're providing great ideas, providing them with some vision around the investment, and the sponsor is trying to bully you back down to unrealistic pricing, you need to be prepared to walk away.
The only reason you priced the sponsorship where you did was because of time. You've now got past that and you've got the time. Don't panic and let them push you around. Just ensure your skills are good, your offers are creative and show real strategic worth to the sponsors, and get out there and do it.
Life's too short and sponsorship is too amazing to be volunteering to do business with a sponzilla when you don't have to.
Need more assistance?
For all you need to know about sponsorship sales and servicing, you may want to get a copy of The Sponsorship Seeker's Toolkit 4th Edition. You may also be interested in my white papers,  "Last Generation Sponsorship Redux" and "Disruptive Sponsorship: Like Disruptive Marketing, Only Better".
If you need additional assistance, I offer sponsorship consulting and strategy sessions, sponsorship training, and sponsorship coaching. I also offer a comprehensive sponsorship capacity-building service for large, diverse, and decentralised organisations.
Please feel free to drop me a line to discuss.
Please note, I do not offer a sponsorship broker service, and can't sell sponsorship on your behalf. You may find someone appropriate on my sponsorship broker registry.
© Kim Skildum-Reid. All rights reserved. To enquire about republishing or distribution, please see the blog and white paper reprints page.