Sponsorship Downturn Consulting
Sponsorship budget cut? Economic downturn? Get the right advice to thrive through it
Inflation is stubbornly high, interest rates keep rising, and economists are increasingly pessimistic about whether the economy will have a "soft landing", with no recession. If we do get a recession – and many companies are preparing for one now – there's no question it would have a big impact on sponsorship budgets.
Or maybe you need to cut your sponsorship budget for another reason, such as a major change in strategy, reorganisation, or acquisition.
Either way, making substantial cuts to your sponsorship spend isn't easy. Between internal politics, arbitrary targets, and multi-year sponsorship contracts, culling the dead wood and finding efficiencies can be fraught. And even then, sponsorship still has to deliver on objectives.
Creating lean, efficient sponsorship portfolios has been a specialty of Power Sponsorship for some time. See more below about how this expertise can help your organisation.
Sponsorship review and strategy with Kim Skildum-Reid
Downturns mean making hard choices around sponsorship. What to keep, and what to exit? Should we exit or sponsor at a lower level? What to prioritise?
And with those choices, there needs to be a new framework – one that maximises results with resourcefulness and creativity. One that turns your leaner portfolio into an even bigger asset for your brand.
As with all of my sponsorship consulting work, I'll work collaboratively to create that framework, providing recommendations and rationale that your whole company can get behind.
Ideal for sponsors that want to…
Reduce annual sponsorship expenditure, while improving results
Get to your financial targets as quickly as possible, while maintaining your most leverageable sponsorship assets (which may not be the most obvious)
Manage stakeholder expectations and politics
Handle exits for minimal market and partner blowback
Optimise strategies, efficiencies, and processes, so they will scale, when times improve
Create full accountability against objectives for every dollar spent
Why you want to work with me
When you work with a consultant, you want someone with the talent, experience, and industry credibility to not only create a great strategy, but build the consensus to get it done. You want someone who will take the time to understand your organisation, challenges, and goals. And you want the consultant you hired – the consultant you trust – to do the actual work.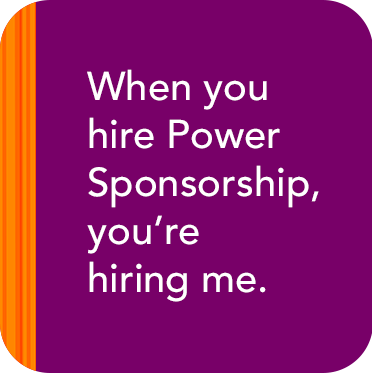 I've written the bestselling books in the industry, worked with blue chip clients all over the world, and stayed on the cutting edge of sponsorship thinking for three decades
Unlike most agencies, your work is never handed off to a junior staffer. There aren't any. All strategy work is handled by me, personally.
Most clients are repeats, working on new projects, or with new companies, as decision-makers change roles. Most of the rest of my strategy clients are referrals from other clients. Click for a list of just some of those sponsorship consulting and training clients.
I balance big vision, savvy analysis, and hard-nosed practicality, giving you a strategy that's both doable and inspiring.
I don't pull punches. You don't need a yes-(wo)man, who won't give you the analysis and advice that will create real change. I'll give it to you – and your executive team – straight, every time.
Based in Sydney, Australia, I work with clients all over the world. I'm set up to work with you remotely, as required.
What's the alternative?
Whether you're staring down a budget cut now, or you're preparing for a potential downturn, you need to make a plan as early as possible. The longer you delay, the fewer good choices you're going to have. And if you don't have a plan at all, you could end up with everything on renewal being cut, no matter their value to the brand.
Let's not let that happen.
What now?
If you want to discuss your situation, please drop me a line and tell me a bit about your organisation and your challenges. We can then set up a phone or Zoom meeting to discuss, before putting together a consulting proposal for you.
Please note, because I do all of the strategy work, I can only take on a handful of major consulting clients a year.
Enquire now