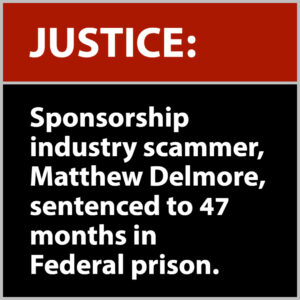 Matthew Delmore was sentenced in US Federal Court today, 29 October 2021, for his role as the leader and primary beneficiary of a sponsorship broker scam. Two companies run by Delmore, Alpha Sponsorship Consulting and Prestige Sponsorship, aggressively targeted charities and events across the United States.
According to court documents, this scam ran from December 2016 to March 2020. There were 36 identified victims. The amount scammed from them totalled almost US $300,000, although the real financial and other impacts were much higher.
In June 2021, Delmore pleaded guilty to Conspiracy to Commit Wire Fraud, in return for dropping multiple individual wire fraud charges.
Matthew Delmore was sentenced today to…
47 months in Federal prison
Supervised release for a term of 3 years, once released from prison
Restitution in the amount of US $248,868.15. This takes into account amounts already paid back to the victims
All of the court documentation for the whole case can be found on Pacer Monitor. A subscription is required, but you can sign up for a free trial.
I wrote about how scams like this work in my blog, "How to Spot a Sponsorship Broker Scam (and One Broker You Should Avoid)". I have come across a handful of other broker scams, but nothing anywhere near this scale or audacity.
Upshot is that our industry can breathe a sigh of relief that Matt Delmore and his crew are no longer running this scam. Let's hope he stays clear of sponsorship, once his time is served.
Keeping him out of our industry may be helped by the fact that Delmore pivoted to PPE in early 2020, with his company, Prestige Enterprises. Prior to sentencing, he also started an online sneaker company, Kickz 2 U, with his friend Deondric Booker. These initiatives were referenced in a since-deleted profile of Delmore, which was posted in August 2021 and removed about a month later. The archived version of that article can be accessed on this link.
© Kim Skildum-Reid. All rights reserved. To enquire about republishing or distribution, please see the blog and white paper reprints page.