Most sponsorship proposals are awful.
They're uncustomised and often arranged in levels;
They're self-centred, having absolutely nothing to do with the sponsor, their brand, target markets, or objectives;
They don't make a complete business case;
And they're structured so poorly that it's actually difficult to make sense of them.
If you're guilty of even one of these things, selling sponsorship is going to be monumentally more difficult for you. I've got lots of resources for addressing these issues, and a great place to start is my Best of Sponsorship Sales Resources roundup. But I wanted to let you in on a trick I've been teaching in my sponsorship workshops for the past few years that I really haven't covered here before:
A great sponsorship proposal is structured exactly like a Hollywood blockbuster.
There is a certain sense to it – a building of information and context and investment in the outcome – that gets moviegoers to embrace the climax and tell all their friends how amazing it all was. That same approach works for sponsorship proposals – building the information, context, and investment in the outcome of the proposal – getting a brand manager to a place where they understand how it can work for their brand, and are prepared to share that vision with other stakeholders. If you understand and can master the story arc, almost everything else about your proposal will start to naturally fall into place.
Check out the infographic, below (you can click for a larger version). It shows the parallel, as well as outlining what should be included in your proposal at each part of the story arc. If you're looking for a starting place, there is a sponsorship proposal template that follows this arc in The Sponsorship Seeker's Toolkit 4th Edition.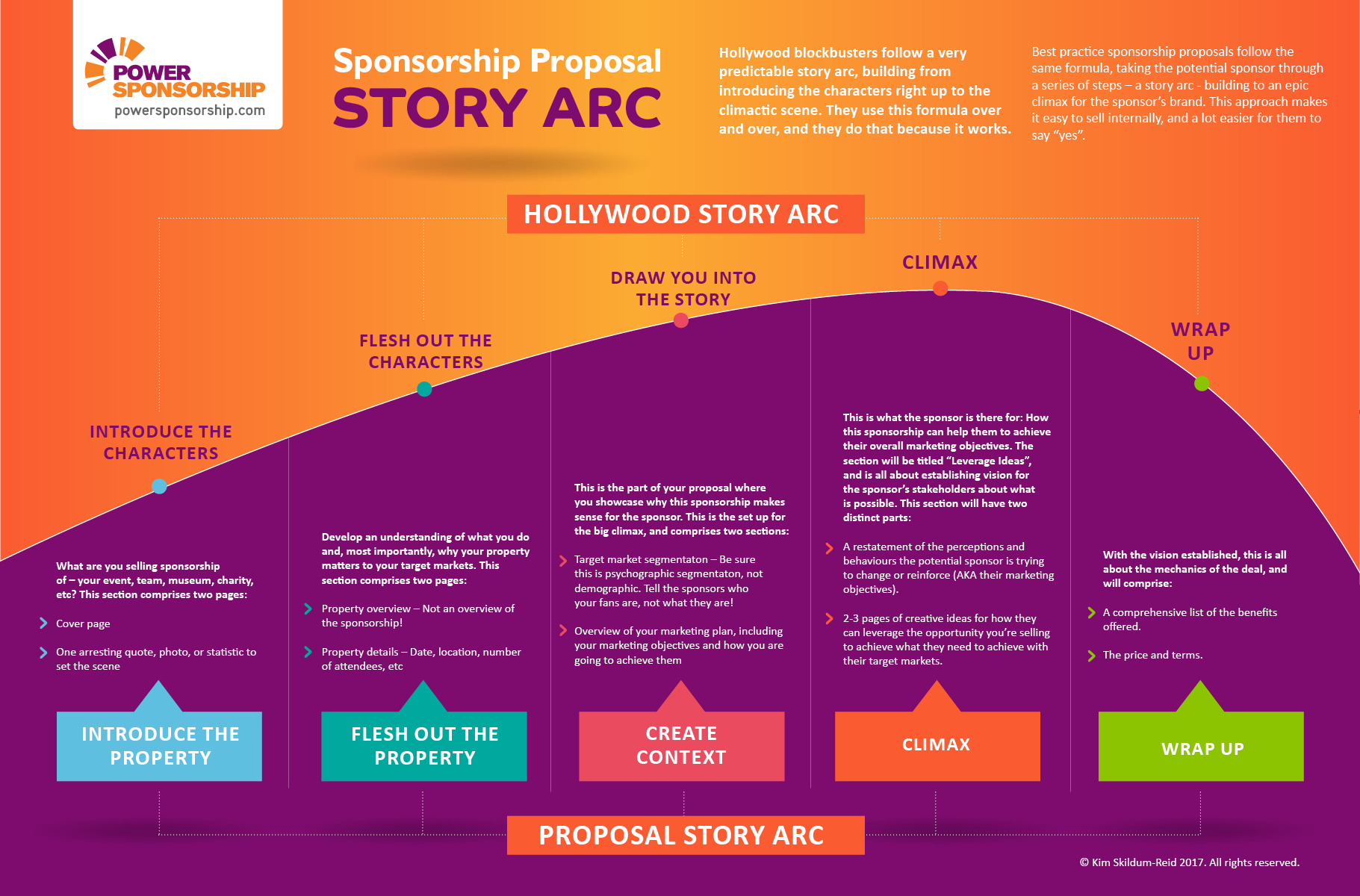 Need more assistance?
For all you need to know about sponsorship sales and servicing, you may want to get a copy of The Sponsorship Seeker's Toolkit 4th Edition. You may also be interested in my white papers,  "Last Generation Sponsorship Redux" and "Disruptive Sponsorship: Like Disruptive Marketing, Only Better". Want to build your sponsorship skills and strategies fast? I've got comprehensive online sponsorship training for both sponsors and rightsholders. Get the details and links to course outlines and reviews here.
If you need additional assistance, I offer sponsorship consulting and strategy sessions, sponsorship training, and sponsorship coaching. I also offer a comprehensive Sponsorship Systems Design service for large, diverse, and decentralised organisations. Please feel free to drop me a line to discuss.
Please note, I do not offer a sponsorship broker service, and can't sell sponsorship on your behalf. You may find someone appropriate on my sponsorship broker registry.
© Kim Skildum-Reid. All rights reserved. To enquire about republishing or distribution, please see the blog and white paper reprints page.