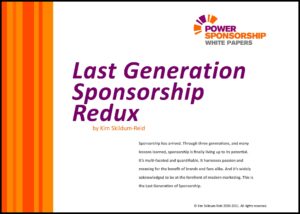 It's been 18 years, and almost a million downloads, since I first wrote "Last Generation Sponsorship". I've done minor updates and tweaks, over the years, but never a full overhaul… until now. Let me introduce you to "Last Generation Sponsorship Redux".
The basic framework of sponsorship has remained the same, and the "last generation" is still the last, but how sponsorship looks and operates has changed. This redux addresses the best practice sponsorship framework in today's terms – with fragmented media, technology changing at a blistering pace, and a pandemic altering the fan experience in ways that will have long-term implications for sponsorship.
"Last Generation Sponsorship Redux" is written for both sponsors and rightsholders. It's a great option for getting your whole team up to speed on the framework of best practice sponsorship. It's also a valuable tool to share up the chain to senior executives, and out to regional management, shifting your whole organisational approach to sponsorship.
Click to download a copy of "Last Generation Sponsorship Redux".
If you want to dig deeper into the biggest, and most important, trends in sponsorship, you may also want to download and read "Disruptive Sponsorship".
Important
As with all of my materials, these white papers are copyright, and copyright is strictly enforced. Don't distribute or reprint them, in any form, or deep-link (directly link) to the download, without express written permission from me. For more on how to get permission, see Blog, White Paper, & Template Reprints.
Need more assistance?
If you need additional assistance with your sponsorship portfolio, I offer sponsorship consulting and strategy sessions, sponsorship training, and sponsorship coaching. I also offer a comprehensive sponsorship capacity-building service for large and/or diverse organisations.
Please feel free to drop me a line to discuss.
© Kim Skildum-Reid. All rights reserved. To enquire about republishing or distribution, please see the blog and white paper reprints page.