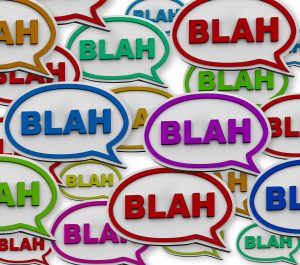 I have lost count of the number of sponsorship proposals that feature – even open with – a non-profit's mission statement. These are the same proposals that usually follow up the mission statement with fifteen pages of why you're so worthy of sponsorship.
I'm really sorry to have to break it to you, but your mission statement is not a useful marketing tool. Sponsors don't care.
This is not to say that your mission statement is irrelevant to your organisation. But when it comes to sponsorship, it's not helpful. Nor is positioning yourself as needy, worthy, or a "good cause".
What sponsors want see from you is very specific – it's about their needs, not yours; it's about connecting with and adding value to their target markets, not you. Providing that context is essential to getting to yes and not being categorised as an organisation looking for a handout. What you want is to position yourself as a viable commercial partner who can provide substantial marketing value to their company or brand.
My advice is to strip your proposal of anything more than one introductory page telling your organisation's story, and concentrate on…
Your organisation's relevance to their target markets and why those markets cares about your organisation or cause. Be reasonable about this. Not everyone is going to give a rat's bum about what you do and getting on your high horse about how they all should care may help in your fundraising efforts, but won't help a sponsor to identify the marketing potential
Your marketing objectives – what perceptions and behaviours are you trying to change with your target markets. This offers a lot of insight into your organisation, but puts it into a context that is much more useful to sponsors
How you envision the sponsor being involved
Creative ideas for how the sponsor can use this sponsorship to achieve their marketing objectives
There is certainly plenty more to be said about what belongs in a sponsorship proposal and how to structure it, but getting the focal point right gets you halfway there.
I suggest checking out these best-of roundups for blogs, white papers, and video tutorials that will put your offers into the right frame to be compelling for sponsors.
Need more assistance?
For all you need to know about sponsorship sales and servicing, you may want to get a copy of The Sponsorship Seeker's Toolkit 4th Edition. I've also got a self-paced, online sponsorship training course, covering the whole sales process, with lots of inclusions. Interested? Check out Getting to "Yes". You may also be interested in my white papers,  "Last Generation Sponsorship Redux" and "Disruptive Sponsorship: Like Disruptive Marketing, Only Better".
I've also got self-paced, online sponsorship training courses for both sponsors and rightsholders. Get the details and links to course outlines and reviews here.
If you need additional assistance, I offer sponsorship consulting and strategy sessions, sponsorship training, and sponsorship coaching. I also offer a comprehensive Sponsorship Systems Design service for large, diverse, and decentralised organisations.
Please feel free to drop me a line to discuss.
Please note, I do not offer a sponsorship broker service, and can't sell sponsorship on your behalf. You may find someone appropriate on my sponsorship broker registry.
© Kim Skildum-Reid. All rights reserved. To enquire about republishing or distribution, please see the blog and white paper reprints page.