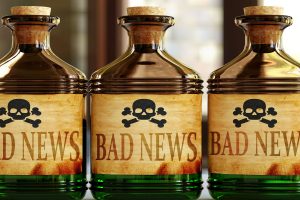 I hate telling people bad news. I especially hate giving bad news to earnest, well-meaning sponsorship seekers who have no idea what they're doing. For so many of them, the sponsorship they want is the difference between an event happening or not, making money or not, keeping their job or not.
Every single day, my inbox is full of emails from perfectly lovely, completely misguided novices. On one hand, I am humbled that so many people want my advice, and I'm really happy to help, if I can. On the other hand, so much of what they are asking is completely unrealistic and/or counterproductive that any honest response is not going to be what many of them want to hear.
I try to be honest, without being mean – okay, I was a little mean after a guy told me in graphic terms how God was going to strike me down because I wouldn't broker his event (I'm not a broker) – but I really believe that someone needs to be kind enough to tell these people the truth.
So, here is the bad news… all of it… in one place:
It is unrealistic to think you will raise $200,000 in sponsorship for an event with less than 60 people in attendance, unless those people are heads of state (or similar).
No, you will not find a broker who will sell sponsorship two months out from your event.
No, I don't think going to the CEO will get you the renewal.
No, going to the media isn't going to get you the renewal, either.
No, a broker is not going to be interested in selling sponsorship for your school fair, wedding, dirt-track race car, or other relatively small property. The commission isn't worth it for them.
Can't find a broker? Well, I guess you're going to have to sell the sponsorship yourself. Or not have sponsorship. One or the other.
No, I will not have lunch with you so you can "pick my brain". That costs money. Here is my coaching brochure.
No, I will not review your 10mb, unsolicited, uncustomised "deck" and show it to my clients.
No, I won't promote it on my website, either. Clearly, you haven't actually looked at my website.
Setting a sponsorship target based on your budget shortfall is a bad idea. Your needs and the commercial worth of your sponsorships are never going to be the same.
No, sending out an uncustomised proposal – or worse, a letter of request – as a "starting point" is not going to get you a meeting. Do your homework and put together your best effort the first time.
I don't care about the rules for government sponsorship and transparency, putting a sponsorship opportunity out to tender is ridiculous. If you're looking for sponsorship, you want marketing partners who are great matches for your property, not the highest bidder (who is often just trying to curry favour).
I don't know how many people you've spammed with this uncustomised, first generation proposal three weeks before your event, but you've now burned bridges with all of them.
Do you really expect me to answer the question "how do I get sponsorship for my event?" in an email? Please, buy a book. Buy several. Read the 200+ how-to blogs on my website. Get involved in industry-related social media. There really are no shortcuts, so you need to get your head around the many skills you will need to raise money in this complex industry.
If your email starts "Dear Sir or Madam" and then you ask for my advice, I'm not going to give it to you. Sponsorship seeking requires a lot of research. If you can't even go to my website – with my photo all over it – and notice that I'm a woman and learn my name, you are not going to be successful at sponsorship. (Actually, I just delete those emails without answering.)
This stuff would comprise 99% of the bad news I have to give people that contact me, and so much of it would be avoidable if people gave themselves more time to sell, did at least some homework on what sponsorship is about before they start, and took on board that there is no such thing as easy money.
Now, as I do with all of those emails, I'll refer to a number of resources that will be very helpful for novice sponsorship seekers:
Get a copy of The Sponsorship Seeker's Toolkit 4th Edition – It is chock full of how-to, templates, tools, etc that will take you through the whole process.
White paper: Last Generation Sponsorship
Use the categories on this blog (in the small, right column) to look up the 200+ blogs on this site by subject. You will likely get at least some direction on your question and it's 100% free.
Once you've done a bit of homework, I promise that either your questions will be answered, or you will be asking different questions, and they will be far more pertinent.
I do apologise for such a cranky post. I had – no kidding – 22 emails to answer this morning and every one of them fit into the category of "bad news they don't want to hear". I honestly do love being a resource for the industry – I love sponsorship!! – but it's really hard to tell someone that what they want or need to happen, probably won't. I feel really bad for them.
Need more assistance?
For all you need to know about sponsorship sales and servicing, you may want to get a copy of The Sponsorship Seeker's Toolkit 4th Edition. You may also be interested in my latest white paper, "Disruptive Sponsorship: Like Disruptive Marketing, Only Better".
If you need additional assistance, I offer sponsorship consulting and strategy sessions, sponsorship training, and sponsorship coaching. I also offer a comprehensive sponsorship capacity-building service for large, diverse, and decentralised organisations.
Please feel free to drop me a line to discuss.
Please note, I do not offer a sponsorship broker service, and can't sell sponsorship on your behalf. You may find someone appropriate on my sponsorship broker registry.